Why should you order custom cast iron from Legacy Machine and Design?
Legacy Machine and Design proudly uses quality Lodge brand skillets to create our beautiful customized pieces. Crafted with pride in Tennessee, we couldn't have chosen a better canvas. You might say these are made in America...Twice. When it comes to our barrel heads, they are from our home state of Kentucky. Whether you are a bourbon enthusiast or just love beautiful rustic home décor, this is a product you are sure to fall in love with.

Using American-made items isn't the only thing that sets us apart. We will go above and beyond to connect with you throughout the ordering process. We pride ourselves on communication and releasing quality products. Check out our customer reviews for the service you can expect.

Contact us now to learn more about our unique and unbelievably affordable services!
Gifts That Give for Generations to Come
Explore our selection of custom cast iron, wooden and aluminum products
Celebrating a special occasion? Do you need a special gift or memorial? Turn to Legacy Machine and Design for beautiful customized iron, wooden or aluminum gifts. Our artist has over 25 years of experience programming and machining. Since 2018 we have been creating high-quality personalized products for our customers.
Some examples of our items available for order include customized:
Cast iron skillets - Dutch ovens - griddles
White Oak KY bourbon barrel heads
Aluminum plaques and saddle savers
We can three-dimensionally machine the product of your choice using text, logos and/or images. Our goal is to bring your idea to life, creating the perfect gift.

Place your custom order with our small business today. Please note that we offer free shipping in the U.S. and discounts on bulk or mass production orders.

Give a Thoughtful Gift to Your Loved One
Design a wooden bourbon barrel head or aluminum sign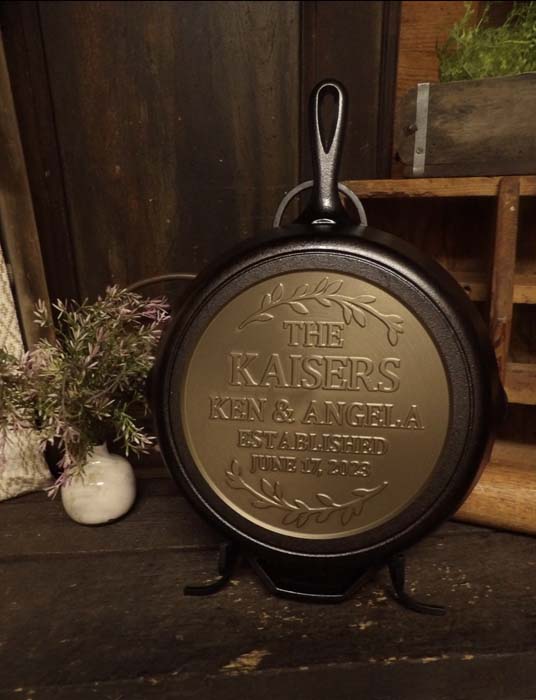 Your company is fantastic, the best customer service I have ever experienced. Our daughter and son in law thought it was a great gift for 6th (iron) anniversary. Not to mention great gifts for The Smoker/BBQ fan. Personalization is the special something that makes it fantastic. Support our local small business!
Amazing people to work with, made exactly what I wanted and were so nice and quick to answer any questions I had!
Perfect gift for my husband for our 6th anniversary! I ordered it late, but it came much faster than I expected which was a nice surprise!
Great quality and unique anniversary gift. I got this for my husband for our 6th wedding anniversary and he keeps raving about how it was the best gift ever!
I absolutely love this! I recently started cooking with and collecting cast iron. My best friend is getting married, so I wanted to get them a personalized cast iron skillet as a wedding present. I'm SO glad I found this! It's Lodge, which is my favorite. My family has used Lodge for generations as I'm from TN. The creators helped me every step of the way in designing. I got it in the mail yesterday and it's beyond what I could have imagined! It's a gift they will cherish all their lives, and I bet their kids and grandkids will, too! Highly recommend!!! ?
This came out just like I wanted. The quality of the cast iron is perfect. I didn't get the one for cooking in, so it is very shiny.
This item was everything we had hoped for. Will make a wonderful anniversary gift. Excellent quality ?
Purchased this cast iron pan for my wife for our 6th anniversary. She loved it. The communication throughout was great, I would highly recommend it.
Fantastic communication, much faster shipping than anticipated, and item quality is top notch. Turned out beautifully, excited to gift to my wife for our anniversary and even more excited for the meals to come from it ? don't think twice, you're in good hands with this seller! Thanks again!
Looked even better than imagined. Gave as a gift, and it was loved. Very easy process and was able to see drawings before created. Would recommend!
John and Shelia made my dream a reality by perfectly crafting a customized cast iron pan to ask my girlfriend to marry me! It was so special and a gift we will forever cherish! It was quick, easy, and they were so fun to work with. Cannot recommend them and their services enough!
I just got my own delivered today. Looks awesome. Fast turn around from order to delivery. Easy and friendly to deal with.
They were able to put my custom design onto a skillet to create a true work of art that will last for ever! I am very appreciative of their craftmanship and communication throughout the whole process. Thanks again Sheila and John!
Choose expedited processing for Christmas delivery
As of today we have met capacity on individual personalized orders guaranteed by Christmas unless you choose Expedited Processing when placing your order. This cost is $25 and expedited processing time is now 7-14 days. This may not be reflected check out, but is the accurate processing time once proof is approved.

**Business branding gift line is still currently open for orders but is extending out very fast. Order these ASAP to ensure delivery.